---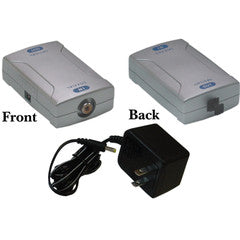 Digital Audio Converter, Digital Coaxial (RCA) Female to Digital Optical (Toslink) Female
10TR-08200

Coaxial (RCA) to Optical Toslink Digital Audio Converter
Digital Coaxial audio signals and Optical Toslink Digital audio signals are two variations of the same S/PDIF standard. The hassle comes when you have some equipment that uses Digital Coaxial and other equipment that uses Toslink. In this case you need to adapt one signal type to the other type.
This adapter converts the electrical signals of a Digital Coaxial input into the optical signals for a Toslink output. It has a small footprint, less than 3" x 2", which makes it easy to hide behind your equipment rack. It is powered by an included 6 VDC, 3A AC adapter.
Question: Do this product come with the required power adapter?