---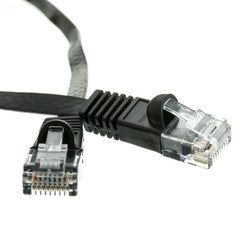 Cat6 Black Flat Ethernet Patch Cable, 32 AWG, 35 foot - 10X8-62235
This 35 foot black cable features a flat body (only 1.8mm thick) for running on the floor or against baseboards. Cat6 cables can support 10 / 100 / 1000Mbps. The cable has stranded 32 AWG (American Wire Gauge) conductors for greater flexibility.

Cat6 cables are used for networking, data transfer, and phone lines. Cat6 Cable is used in network applications and has been designed specifically for Gigabit Ethernet applications. They perform at high-data transfer rates, and work with ATM and gigabit speed products.

This particular cable is a black UTP (Unshielded Twisted Pair) patch cable with molded boots. The connectors are wired to the T568B standard. Pure copper conductors provide the best signal possible. The RJ45 plug features gold connectors to prevent corrosion thus ensuring a longer cable life. Our Cat6 Ethernet patch cables exceed the EIA/TIA-568-C standard.