---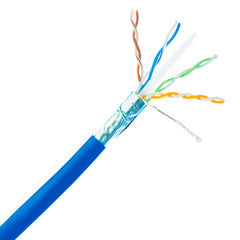 Bulk Shielded Cat6 Blue Ethernet Cable, Solid, Spool, 1000 foot
10X8-561NH
Product Description
Our bulk 1000ft solid Cat6 shielded Ethernet cable is perfect for in-wall installations or installs in a busy electronic environment. Shielded cables are designed to prevent Electro-Magnetic Interference, ensuring the best signal possible.

This is a blue, shielded, solid cable. The individual conductors are 23AWG (American wire gauge) solid pure copper for permanent installations. Our Cat6 Ethernet cable exceeds the ANSI/TIA-568.2-D standard. Comes on a convenient spool.

*Please note, due to the size of the conductors of this cable, it cannot be terminated with regular connectors. This cable is intended to be punched down into keystones or patch panels.