---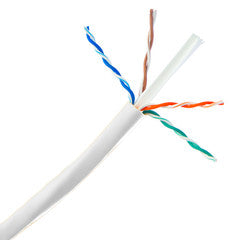 Bulk Cat6 White Ethernet Cable, Solid, UTP (Unshielded Twisted Pair), Pullbox, 1000 foot
Product Description
Our white bulk 1000 foot solid Cat6 Ethernet cable comes in an easy to use pull box and is ideal for the person looking to make longer permanent network runs during installation/expansion of network infrastructure.
Cat6 Cable is used in network applications and have been designed specifically for Gigabit Ethernet applications. They perform at high-data transfer rates, and work with ATM and gigabit speed products.
This particular cable is a white UTP (Unshielded Twisted Pair) solid cable. The individual conductors are 23 AWG (American wire gauge) solid pure copper. Pure copper conductors provide the best signal possible. Cat6 cable includes a spline to help ensure separation between the pairs which limits cross talk. Our Cat6 Ethernet cable exceeds the EIA/TIA-568.2-D standard.
The jacket is Riser Rated (CMR) meaning it complies with UL-1666. It is for usage in vertical tray applications without environmental air. Examples being: cable runs between floors through cable risers or in elevator shafts. These cables self extinguish and prevent the flame from traveling up the cable in a vertical burn test. This network cable is solidly constructed, UL rated, and RoHS Compliant.